Happy Veterans Day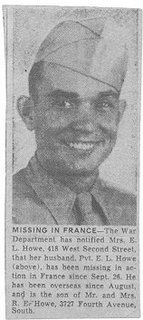 This morning I had my kids get up and go next door to my parent's house. I told them to wish my Dad a happy veterans day and thank him for fighting in a war for them (WWII).
They will call my brother this evening and thank him for his service in Vietnam.
On to the picture
This news clip has an interesting story. And this one contains no fiction.
He was captured as a WWII POW 5 days after shipping overseas. He was captured in France. He was one of 4 out of 150 men who survived to be captured. They killed so many enemy soldiers that when the tank rolled up and pointed its cannon down the front of the farmhouse they were holed up in they could not walk out without stepping on enemy dead.
At the end he and his buddies were fighting with enemy weapons having run out of ammo for theirs.. Before they came out they were careful to throw them away before the Germans saw them, for fear of being shot as spies.
He developed appendicitis in the German POW camp and was operated on by an English officer, who was a surgeon, without any anesthetic. Two days latter they were liberated. He spent months in different hospitals before he was sent home. He left 6' 180 returned 5' 10 120.
He came home and rehabilitated as much as people could back then. He and his wife moved onto a houseboat at a lake and generally partied as much as they could. He was in his mid thirties by now.
Then their boat caught on fire and he was caught in the boat and was burned horribly on his leg sustained a burn on his leg about the size of a grapefruit that never properly healed. This was long before proper burn care was developed. He never truly recovered.
In spite of this he was always happy to see me when I arrived 15 years latter. He was always smiling. But I remember him always being unnaturally thin.
He died when I was 10. At the time he had 3 kids and 5 grand children. One of his kids was killed in an automobile accident waiting to be shot into space as an astronaut before his 30th birthday, he is buried at Arlington.
Happy Veterans Day Uncle Ed. I wish you were alive so I could tell you in person.